Best job in the world: honeymoon travel tester?
(Read article summary)
You and your spouse could get paid to test honeymoon travel spots. In the latest in a series of positions dubbed best job in the world, an Irish tourism company seeks a couple to spend six months honeymooning.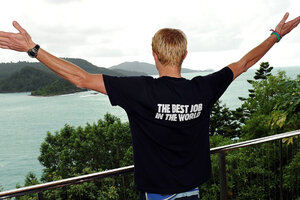 Torsten Blackwood/AFP PHOTO/File
The next item on your résumé could read 'honeymoon tester.'
Really.
An Irish tourism company, Runaway Bride and Groom, is currently looking for a couple to travel to "the most romantic and ultimate wedding and honeymoon venues around the world."
The gig lasts six months and pays €20,000 ($27,000 US). Required: good communication skills and a "romantically linked other half."
Sound too good to be true? This is just the latest in a series of "dream job" postings.
First was Tourism Queensland's islands caretaker position in Australia, advertised as the "Best Job in the World." That went to Ben Southall, of Petersfield in Hampshire, England, who had the enviable task of promoting Australia's Great Barrier Reef by exploring its islands and blogging about his adventures. He made $150,000 AU for the six-month stint.
---