Brad Stevens: the economics of a Cinderella coach in the Final Four
(Read article summary)
Coach Brad Stevens has earned his pay for Butler's Cinderella run into the Final Four.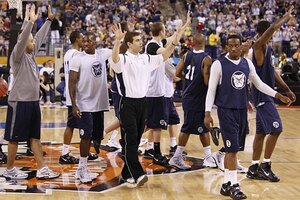 Jeff Haynes/Reuters
Sports and economics don't mix very well.
It's hard to understand how the NCAA can rake in nearly $640 million, almost all of it from TV rights for college basketball games, and yet virtually all college basketball teams lose money.
Why donors keep pouring money into these money-losing operations, rather than, say, chemistry or English literature, is beyond me.
Nevertheless, economics can be a useful way to see if what we think we know about sports is actually true. So, as Butler prepares to take on Michigan State in Saturday's NCAA tournament semifinal, here's a look at the economics of a Cinderella coach.
Butler's young Brad Stevens fits the bill. He quit a job in marketing to volunteer as an assistant to Butler's basketball coach. He was set to start working at Applebee's to make ends meet when a basketball job opened up at Butler. That led to an assistant coaching spot and, three years ago, the head coach position.
In his third year, Mr. Stevens has taken Butler, already a good team, to its first-ever Final Four.
---