Forget recession. Will US have too few workers by 2018?
(Read article summary)
Up to 25,000 UPS jobs will open up in the next few years because of retiring baby boomers. Retirements may mean the US will have too many jobs and too few workers.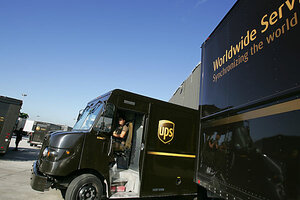 Roberto Schmidt/AFP/Getty Images/Newscom/File
UPS expects to hire up to 25,000 drivers in the next five years.
These are good jobs. The average salary is $74,000 a year. So why are there so many vacancies in such a poor economy?
Retirements. The company's baby boomers are expected to leave and UPS will need new drivers to take their place.
By some estimates of the workforce, so many boomers could retire in the next few years that the US could find itself with too many jobs and too few workers to fill them.
Wait! This is great recession America, U-shape recovery-land, home of the weak job market. We're not going go have too many jobs, right?
"With nearly 10 percent of the American labor force unemployed ... it may come as something of a surprise that within less than a decade, the United States may face exactly the opposite problem – not enough workers to fill expected job openings," write Barry Bluestone and Mark Melnik, authors of a 2009 study by the Dukakis Center for Urban and Regional Policy at Northeastern University in Boston.
That's typically what happens after recessions: a glut of workers turns into a labor shortage as the economy booms, they argue. By their calculations, the US could create 14.6 million new nonfarm payroll jobs between 2008 and 2018 and have only 9.1 million additional workers to fill them (9.6 million if you figure some people will hold more than one job).
---