Goldman Sachs: a market maker or trading firm run amok?
(Read article summary)
When it comes to the ethics of a market maker, Goldman Sachs and a Senate panel don't see eye to eye.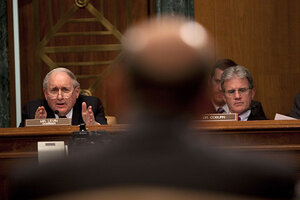 Evan Vucci/AP
The grilling of Goldman Sachs executives by a Senate panel Tuesday illustrates the wide chasm that divides Wall Street from the rest of America.
It's not just big pay and bonuses. When it comes to business practices, neither understands the ethics of the other.
When Goldman managers tried to explain how their business operates at Tuesday's hearing, the senators just didn't get it. When senators on both sides of the aisle asked how the company could hawk an investment with one hand while selling short that investment with the other, Goldman executives didn't seem to understand why that might be a problem.
Congressional hearings are political theater, of course, so both sides may understand each other better than they let on. Still, there's clearly a disconnect.
One big reason for it is a lack of consensus over the proper role of a market maker.
Market makers are not your run-of-the-mill business. They're individuals or companies who make markets function more efficiently, whether it's stocks or currencies or derivatives that are being traded. They do that by offering buy and sell prices, sometimes stepping in to buy when there aren't enough buyers or sell when there aren't enough sellers.
It's a key role that provides markets with much-needed liquidity.
---