Greek debt crisis sparks sharp fall in US, Europe markets
(Read article summary)
Fears that the Greek debt crisis will spread roiled global stock markets Tuesday. Major US and European indexes fell more than 2 percent.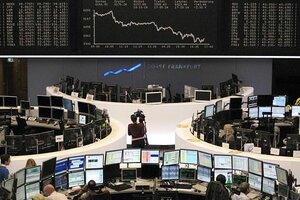 Michael Leckel/Remote/Reuters
Volatility has roared back into global stock markets.
After relative quiet as US markets rose on strong earnings and signs of an improving economy, the past week and fears over the Greek debt crisis spreading to other countries has brought chaos not seen since the crisis burst into the open in three months ago.
On Tuesday, stock markets plunged 2 percent or more in several financial centers, including Frankfurt, Paris, London, and New York, where the Dow Jones Industrial Average lost 225 points. That was the Dow's biggest decline since Feb. 4 and its fifth day of double-digit moves in the last six trading days.
For nations at or near the epicenter of the crisis, the plunge was worse: Athens fell 6.7 percent; Lisbon was down 4.2 percent; and Spain (based on unfounded rumors of an impending rescue) declined 5.4 percent to a nine-month low. The euro fell to a 13-month low against the dollar.
---