Romaine lettuce recall 2010: Stores offer refunds
(Read article summary)
In the wake of a romaine lettuce recall, Kroger, Giant Eagle, Ingles Markets say they'll refund customers who return salads made with the suspect lettuce.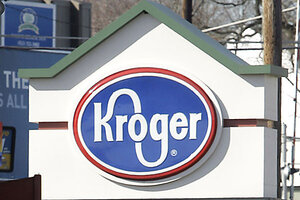 Al Behrman/AP/File
If you bought a "grab and go" salad that's part of the romaine lettuce recall, you can get a full refund.
At least three of the four grocery chains that have carried recalled romaine lettuce confirm that consumers who have purchased a salad with the suspect product can return it for a full refund.
The lettuce comes from Freshway Foods, has a "use by" date of May 12 or earlier, and was sold at in-store salad bars or delis at Kroger, Giant Eagle, Ingles Markets, and Marsh stores, according to Freshway.
The salads were sold in the District of Columbia and 23 states, mostly east of the Mississippi River: Alabama, Connecticut, Florida, Georgia, Illinois, Indiana, Kansas, Kentucky, Maryland, Massachusetts, Michigan, Missouri, New Jersey, New York, North Carolina, Ohio, Pennsylvania, Rhode Island, South Carolina, Tennessee, Virginia, West Virginia, and Wisconsin.
---