EU rescue plan buys time to defuse Greek debt crisis
(Read article summary)
While it doesn't solve the Greek debt crisis, the EU rescue plan will give indebted nations time to pare their debt.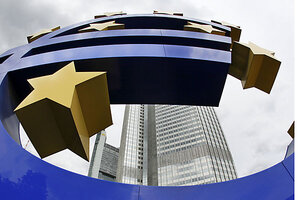 Michael Probst/AP/File
In approving a nearly $1 trillion rescue package, European leaders have buoyed markets and stopped the Greek debt crisis from spreading to other European Union members, at least in the very short term.
And that could be key to helping the European Union through its growing financial crisis.
Investors certainly were enthusiastic. Stock markets rebounded in dramatic fashion Monday, with major European stock indexes rising from 5.2 percent to 9.3 percent, Tokyo's Nikkei index climbing 1.6 percent, and the Dow Jones Industrial Average up 3.9 percent. All three major US indexes climbed into positive territory for the year after last week's selloff.
Why are markets so relieved?
The bailout package is huge: At $957 billion, it exceeds the $700 billion Troubled Asset Relief Program enacted by the US in 2008 that helped reassure markets that the government would stand behind big faltering banks. Besides loan guarantees from the EU, the package includes up to $250 billion from the International Monetary Fund and, for the first time, direct purchases of government debt by the EU's central bank.
---