Pampers lawsuit: Should you join it?
(Read article summary)
As a class action, the Pampers lawsuit asks Procter & Gamble to reimburse all parents for medical expenses associated with the new diapers.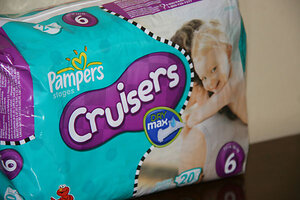 Jennifer Kerr/AP
The filing of a Pampers lawsuit is escalating the grass-roots battle between angry parents and diapermaker Procter & Gamble (P&G).
The Pampers lawsuit – actually two of them have been filed so far – represent eight families who allege that P&G knew, or should have known, that its Dry Max technology could harm babies by causing severe rashes, chemical burns, and other ailments.
Since announcing its suits Wednesday, law firm Keller Rohrback L.L.P. in Seattle has been flooded with calls. By Thursday afternoon, it had heard from roughtly 150 consumers or more.
"We've never seen an outcry like this," says Gretchen Cappio, a partner in the firm. "These parents are trying to express that P&G should stop trying to deny the problem or, even worse, blaming the parent or caregiver."
P&G has aggressively defended its Dry Max technology, saying it has been extensively tested before and after its introduction in March. Dry Max allows diapers to be thinner, which is better for the environment because the diapers take up less space in landfills, the company says. And it doesn't compromise on absorbency, P&G says, which is important in avoiding diaper rash.
---