Best US beach – Coopers Beach – is also the priciest
(Read article summary)
Among the Top 10 beaches in the United States, No. 1 Coopers Beach in Long Island costs the most.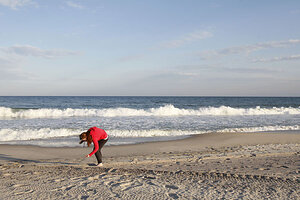 Kathy Willens/AP
The No. 1 beach in the United States – Coopers Beach in Southampton, N.Y. – is also the priciest.
The beach won honor in the list of Top 10 beaches released Friday by "Dr. Beach" (a.k.a. Prof. Stephen Leatherman). Unfortunately, a weekday on its "grainy white quartz sand" will set you back $30 for parking on weekdays. A weekend day is $35.
But look at what you get for your money: "Historic mansions grace the beautiful, grass-covered sand dunes; the turrets of Calvin Klein's mansion are among the views visible from Coopers Beach," Mr. Leatherman, director of the Laboratory for Coastal Research at Florida International University, writes on his website.
IN PICTURES: Top 10 beaches 2010
If you want your beach time a little cheaper, park in Southampton and bicycle to the beach for free.
The next most expensive beach on the Top 10 list is also in the Hamptons on Long Island: No. 5 Main Beach in East Hampton, N.Y. Parking will cost you $25 on weekdays. And it's better to take it, because there's no public beach parking for nonlocals on the weekends.
---