Flag Day signals uptick for US flag manufacturers
(Read article summary)
On Flag Day, US flag retailers and manufacturers are optimistic about a rebound in their business as imports fall.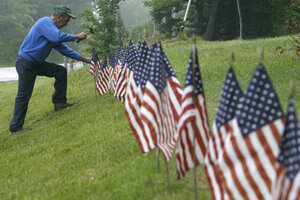 Toby Talbot/AP photo
It's Flag Day – when Americans gather together to commemorate the adoption of the US flag at the Second Continental Congress in 1777.
Or, at least, to wave their own little piece of America.
The holiday falls in the middle of a patriotic tour de force: between Memorial Day and the Fourth of July. For US flag manufacturers and retailers, this is go time. So, at the tail end of the worst recession in 80 years, how are they holding up?
"The flag business is alive and well," says Jan Hartman, owner of Flag Lady Gifts a Pennsylvania-based flag retailer.
That's not to say that Ms. Hartman and other retailers haven't been affected by the recession. "Certainly we've had to trim fat," acknowledged Hartman. But manufacturers are seeing signs of growth.
"May was very strong in terms of sales," said Janice Christiansen, owner of FlagSource, an Illinois-based flag manufacturer. The company was kept afloat during the worst stretch of the recession last year by government contracts, which stayed steady when orders from commercial retailers dipped.
---