Dow average extends losing streak, longest since 2008
(Read article summary)
Stocks on the Dow average drop for the seventh day in a row as professional and individual investors pull back from risk.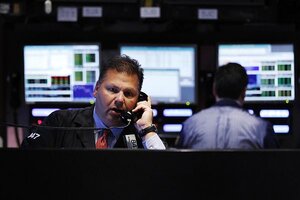 Shannon Stapleton/Reuters
The major stock indexes swooned to nine-month low Friday on fears that the US recovery is losing momentum.
The Dow Jones Industrial Average fell for the seventh trading day in a row, its longest losing streak since October 2008, when the stock market was reeling from the Lehman Brothers bankruptcy. At 9686, the Dow now stands at its lowest level since Oct. 5, 2009, and has lost 13.5 percent of its value in just over two months.
The broader Standard & Poor's 500 index has lost 16 percent since it's peak in April. The Nasdaq is edging closer to bear-market territory, falling 17 percent in the same period.
What's wrong with investors? The easy answer is that they've lost their appetite for risk and risk assets. The more nuanced answer is that the US recovery story isn't unfolding as expected, causing investors to recalibrate.
For professional money managers, that recalibration involves factors like Europe's debt crisis, the implications of a slowdown in the West for still-booming economies, especially China, and fears of a double-dip recession in the US. The tepid rise in US employment in June, announced Friday, further depressed sentiment.
---