Microsoft (MSFT): the Lance Armstrong of tech stocks?
(Read article summary)
Like the Tour de France champ, Microsoft has strength and durability. But it isn't winning the races that count.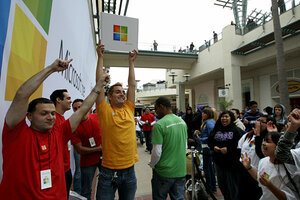 Sandy Huffaker/AP/File
Microsoft (MSFT) is looking a lot like the Lance Armstrong of tech stocks.
Its strong, enduring, even fleet, at times.
But just as the seven-time winner of the Tour de France isn't winning bicycle races these days, neither is Microsoft winning the cutting-edge competitons that count.
Instead, the Redmond, Wash., software giant is doing what traditional companies do, boosting revenue and cutting costs. On that front, it's executing quite well.
Its quarterly earnings report released Thursday after the market's close beat analysts' expectations, both for total sales (a record $16 billion vs. an estimated $15.3 billion) and earnings per share (51 cents vs. a predicted 46 cents). the company successfully launched Office 2010 and has sold 175 million licenses for its Windows 7 operating system. (Apple will have to sell a lot of iPhones 4s to match that.)
"The revenue growth, combined with our ongoing cost discipline, helped us achieve another quarter of margin expansion," said Peter Klein, the company's chief financial officer, in a release.
But on the frontiers of consumer technology, it's success has been more limited. Its Bing search engine continues to gain market share, but it remains far behind its competitors. Microsoft's online services group lost $696 million for the quarter.
---