Foreclosures ease in cities hit hardest by housing crisis
(Read article summary)
Foreclosures declined in all top 10 metros, according to a new report.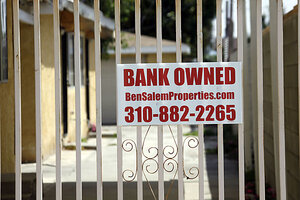 Reed Saxon/AP
Foreclosures in the United States probably have not yet peaked. But in the cities most decimated by the housing crisis, there are growing signs that the worst is over.
Las Vegas? The metro area that's been "foreclosure central" for months has seen the number of mortgage default notices fall 15 percent between the last half of 2009 and the first half of 2010, according to data released Thursday by RealtyTrac, an online marketplace for foreclosure properties based in Irvine, Calif.
Cape Coral-Fort Myers, Fla., the No. 2 foreclosure hot spot? Default notices are down 22 percent during the same period.
Indeed, all 10 of the metro areas with the highest foreclosure rate – and 23 of the top 25 − saw default notices fall during that time.
That doesn't mean that their problems are over. All 25 metros have foreclosure rates that are two to five times the national average. Despite Las Vegas's improvement in the last six months, one in every 15 homes in the area received a foreclosure notice in the first half of the year.
Nevertheless, the signs are pointing the right way.
"It appears that we might have peaked in the hardest hit markets," says Rick Sharga, senior vice president with RealtyTrac. "But the problem is spreading into other markets."
Outside of the top 25 foreclosure metros, 101 of the 181 metros tracked by RealtyTrac saw foreclosures increase during the first half of this year compared with the last half of 2009.
Looking at foreclosures nationally, "we believe on a year-over-year basis we won't peak until 2011," Mr. Sharga says. Unemployment will have to drop substantially before rates can fall dramatically.
Here's RealtyTrac's list of the 25 metro areas with the highest foreclosure rates:

Percentage of homes with foreclosure filings
1. Las Vegas-Paradise, NV 6.60 percent
2. Cape Coral-Fort Myers, FL 4.98
3. Modesto, CA 4.59
4. Merced, CA 4.47
5. Riverside-San Bernardino-Ontario, CA 4.37
6. Stockton, CA 4.37
7. Phoenix-Mesa-Scottsdale, AZ 4.28
8. Orlando-Kissimmee, FL 4.15
9. Vallejo-Fairfield, CA 3.91
10. Miami-Fort Lauderdale-Pompano Beach, FL 3.89
11. Reno-Sparks, NV 3.76
12. Bakersfield, CA 3.67
13. Naples-Marco Island, FL 3.23
14. Sacramento--Arden-Arcade--Roseville, CA 3.19
15. Deltona-Daytona Beach-Ormond Beach, FL 3.09
16. Port St. Lucie, FL 3.05
17. Lakeland, FL 2.90
18. Palm Bay-Melbourne-Titusville, FL 2.79
19.Visalia-Porterville, CA 2.72
20. Tampa-St. Petersburg-Clearwater, FL 2.71
21. Fresno, CA 2.70
22. Boise City-Nampa, ID 2.67
23. Sarasota-Bradenton-Venice, FL 2.65
24. Ocala, FL 2.63
25. Salinas, CA 2.58
National average: 1.28 percent
RELATED:
---
Follow Stories Like This
Get the Monitor stories you care about delivered to your inbox.