Mortgage rates reach new lows. Now what?
(Read article summary)
Mortgage rates – at 50-year lows – look alluring. Ask yourself these five questions before you make a move.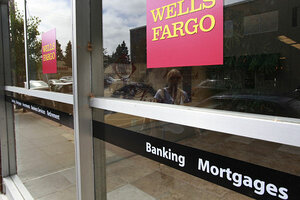 Paul Sakuma/AP/File
Every time mortgage rates dip, homeowners and home buyers gain a little more flexibility.
They can buy or refinance at lower mortgage rates and use the savings for something else. Or they can afford a shorter-term mortgage at even lower rates.
They can pay off debt faster or, conversely, pay it off more slowly and invest the difference in something boasting higher returns.
So when mortgage rates dropped this week to new lows not seen in more than half a century, new possibilities edged into view for many Americans who own a home or are considering buying one.
The average national rate this week for a 30-year fixed-rate mortgage fell to 4.49 percent, mortgage repurchaser Freddie Mac reported Thursday. That's the lowest rate that Freddie Mac has ever recorded in 39 years of tracking the rate. Rates on a 15-year fixed rate mortgage fell below 4 percent for the first time, dropping to 3.95 percent.
What might lower mortgage rates accomplish for you? Here are five questions to ponder:
1) Should I buy now?
Lower rates certainly make housing more affordable, but don't rush to buy anything because of a a change of a few fractions of a percentage point. A $10,000 reduction in the price of a typical home yields more savings than a quarter-point drop in the mortgage rate.
In any case, many housing experts expect average home prices to fall in coming months. So you have some time to be choosy. A house is more than an investment, after all, and you should enjoy where you live .
2) Does it make sense to refinance?
It depends on your situation. Use the planning calculators in your personal finance software or one of the many mortgage calculators online to find out how much you'd save by snagging a lower rate. Don't forget to factor in the closing costs (whch in some states can add up to $2,000 or more beyond any fee charged by the bank). The rule of thumb is that if you break even within a year or 18 months, it generally makes sense to refinance. Much depends, of course, on how long you plan on staying in your present property.

---