HP CEO Mark Hurd resigns. Can HP manage fallout?
(Read article summary)
HP CEO Mark Hurd, who resigned abruptly Friday, has pushed Hewlett-Packard into a harsh spotlight that highlights two weaknesses at HP.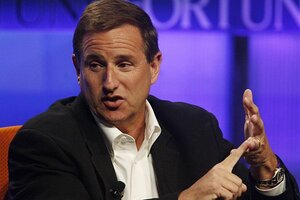 Fred Prouser/Reuters/File
Technology powerhouse Hewlett-Packard is winning high marks for its quick and decisive replacement of HP CEO Mark Hurd, who resigned abruptly Friday after a company inquiry into allegations of sexual harassment.
But HP is still vulnerable in two areas, corporate ethics experts say, which the scandal has now more fully exposed: 1) Mr. Hurd's combined role as CEO and chairman leaves an especially large void in the leadership at a sensitive time and 2) his $12.2 million severance payment is likely to renew focus on the company's generous CEO pay.
Shareholders, employees, and customers will be watching closely to see how the board handles these hurdles in the coming weeks.
"Of course, when a CEO leaves, it's damaging," says Tim Smith, who heads the shareholder engagement program at Walden Asset Management in Boston. HP's board "did this as well as could be expected."
On Friday afternoon, as many journalists were heading out the door, HP announced Hurd's resignation and the appointment of its chief financial officer, Cathie Lesjak, as his interim replacement. The moves were triggered by a June 29 letter from the lawyer of an former HP contractor, who claimed that Hurd had sexually harassed her.
The board quickly began an investigation by its general counsel and outside counsel. They determined that Hurd had not violated the company's sexual-harassment policy but did break HP rules of business conduct. According to HP officials, he submitted falsified expense reports to conceal the "close" and "personal" relationship with the HP contractor. Hurd acknowledged the problem.
---