Honda recall: Is your Accord or Civic on the list?
(Read article summary)
Honda recall of nearly 400,000 Accords, Civics, and Elements is the automaker's latest attempt to fix faulty ignition lock systems.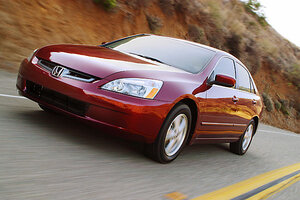 Honda/Newscom/File
In issuing a new recall Monday, Honda is tackling anew a familiar problem: faulty ingnition-lock systems that allow drivers to shut off the engine and remove their keys without ever putting their vehicle into park.
The result has been at least 28 complaints and 11 instances where the cars started rolling and crashed, according to a National Highway Traffic Safety Administration Department report. One incident involved a minor injury, Honda said in a statement.

The Honda recall announced Monday involve nearly 400,000 cars in the United States: some 197,000 Accords and 117,000 Civics from the 2003 model year as well as roughly 69,000 Honda Elements from the 2003-04 model years. Similar problems prompted the automaker to issue recalls in 2003 and again in 2005 to fix earlier versions of Honda Accords, Odysseys, Acuras, and Preludes.
---