Egg recall: Are your eggs on the list?
(Read article summary)
Egg recall springs from possible salmonella contamination at one of America's largest egg companies.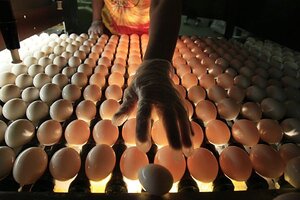 Robert F. Bukaty/AP/File
[Editor's note: On Aug. 18, the recall was expanded to include new facilities and eggs packaged through Aug. 17. Click here for that update. For an updated list of brand names and plants involved in the egg recall as of Aug. 26, click here.]
One of the nation's largest egg-producing companies has initiated a nationwide recall of eggs packaged from May 16 through Aug. 13 because of concerns they could be contaminated with salmonella .
The egg recall was voluntarily initiated by Wright County Eggs, based in Galt, Iowa. The company says the suspect eggs come in packages stamped with one of these three plant numbers: P1026, P1413 and P1946.
The way to tell if your eggs are part of the recall is to check the end of your egg carton. If it's stamped with one of those three numbers (the P stands for plant), then look carefully at the number that follows.
TOP 5 RECALLS: How does egg recall stack up?
If it falls anywhere between 136 to 225 (the 136th day of the year fell on May 16; day 225 was Aug. 13), take the eggs and the carton back to the store where you bought it. The store will issue a full refund.
The potentially contaminated eggs come in various sizes of packaging: from 6-egg to 18-egg cartons. They're marketed under these brands: Lucerne, Albertson, Mountain Dairy, Ralph's, Boomsma's, Sunshine, Hillandale, Trafficanda, Farm Fresh, Shoreland, Lund, Dutch Farms, and Kemps. The recall only concerns shell eggs. Other Wright County Eggs products aren't affected.
---