Egg recall list expands. Check your eggs again.
(Read article summary)
Egg recall list now includes new facilities and eggs packaged through Aug. 17. Here are the updates to the egg recall list.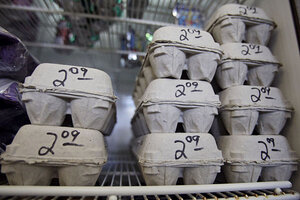 Damian Dovarganes/AP
[Editor's note: The egg recall has spread to a second Iowa egg company, Hillandale Farms, since this story was written. For news on that recall, click here. For an updated list of brand names and plants involved in the egg recall as of Aug. 26, click here.]
The Iowa company responsible for a nationwide egg recall has dramatically expanded it, including new plants and eggs sold through Aug. 17. Federal officials warn they could be contaminated with salmonella.
Even if consumers have already checked their eggs based on the original egg recall list, officials at Wright County Egg suggest looking again. One end of each egg carton is stamped with a number starting with a P (which stands for plant). If the number on your carton is P1720 or P1942, look carefully at the three-digit number that typically follows it.
If that number falls within the range of 136 to 229, the eggs are part of the recall. (The numbers represent dates: The 136th day of the year was May 16; the 229th was Aug. 17.)
The brands included in the new recall are: Albertsons, Farm Fresh, James Farms, Glenview, Mountain Dairy, Ralph's, Boomsma, Lund, Kemps, and Pacific Coast. [Editor's note: Many readers asked that we add this paragraph.]
---