Egg recall list expands: Here's an updated list
(Read article summary)
Egg recall list has expanded to include 12 new brands and loose generic eggs.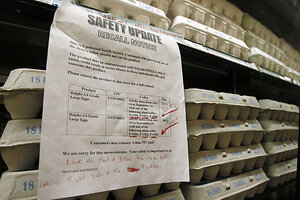 Reed Saxon/AP
The egg recall by two Iowa egg companies has expanded to include 12 new brands as well as generic eggs.
That doesn't mean the total number of eggs in the egg recall has increased, the Egg Safety Center says, only that the industry has discovered more plant numbers and brands that were involved in the egg recall. The center's list, updated as of Aug . 26, adds these new brands: Alta Dena Dairy, Becky, Cal Egg, Cardenas Market, Challenge Dairy, Country Eggs, Driftwood Dairy, E&M Ranch, Hidden Villa Ranch, Mi Pueblo, Wagon Trail, Yucaipa Valley, as well as generic eggs.
Many of these eggs have long ago passed their expiration date. Still, some of the eggs were packaged as recently as Aug. 18.
Below is an egg recall list by plant number (designated by a P) and date (a three-digit number denoting the day of the year. Day 225, for example, is Aug. 13). Also included are the brands under which the eggs were sold.
You can find these numbers stamped on the end of each carton.
If you have egg cartons with these plant numbers that fall within the date range, they're part of the egg recall.
---