Beige book: US economy grows more slowly
(Read article summary)
Beige book from the Federal Reserve offers picture of US economy that's still afloat, despite decelerating improvement.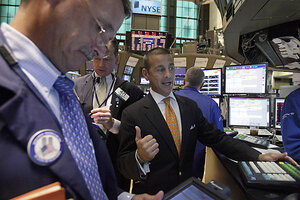 Richard Drew/AP/File
OK, US economic growth is not all snap, crackle, and pop.
It's more like cereal five minutes after you add the milk: soggy but still afloat.
That's the picture painted by the Federal Reserve's so-called "beige book," a summary of economic conditions that was released Wednesday.
"Economic growth at a modest pace was the most common characterization of overall conditions," the report summarized, "but with widespread signs of a deceleration compared with preceding periods."
Pessimists could find plenty to complain about. Five of the Fed's 12 districts reported mixed conditions or decelerating growth during the period from mid-July through August. All of those districts were in the eastern half of the United States: New York, Philadelphia, Richmond, Atlanta, and Chicago.
---