Toyota recall October 2010: Lots of recalls. Better cars?
(Read article summary)
Toyota recall and others could make 2010 the year of the recall. But it also could signal that cars are getting safer.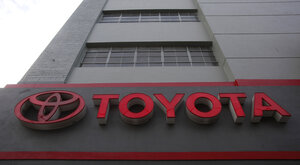 Jeff Chiu/AP/File
This is the year of the auto recall. From Hondas to Toyotas, Hyundais, and even Bentleys, the United States reportedly is on track to see more cars recalled than in any year since 2004.
Cars are getting shoddier and highways are more dangerous, right?
No. Overall car quality actually went up in this year's quality survey by J.D. Power and Associates. And highway safety is better than ever in many ways.
So what do all these recalls signal? In an odd sort of way, they may be evidence that car companies are becoming more proactive than ever.
Many of the problems they're addressing are serious and, in some cases, life-threatening. But by moving quickly to address those problems, automakers are taking potential hazards off the roads before they lead to accidents.
"There's much more of a climate, if you will, of taking the bull by the horns," says Bill Visnic, senior editor with Edmunds.com, an automotive information firm in Santa Monica, Calif. "Once everybody saw the black eye that Toyota got [for its slow response to reports of safety hazards], all the carmakers have become much more vigilant."
Take the latest pair of recall announcements. On Wednesday, Toyota announced that it was recalling 1.5 million models worldwide because of brake fluid and fuel-pump problems. Nearly half of those vehicles were sold in the US, including Avalons, nonhybrid Highlanders, and Lexuses.
---