Hybrid cars? OK. All-electric Tesla? An eco-thriller!
(Read article summary)
Hybrid cars still hold onto the combustion past, but the Tesla shows how all-electric cars can be a sporty and eco-friendly alternative.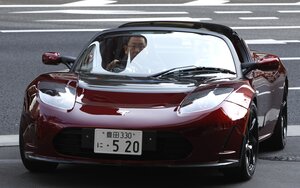 Issei Kato/Reuters
A small pothole sends a jolt to my tailbone. This car's suspension is tight, its tires low-profile, with barely any sidewall between rim and road.
But mashing the accelerator pedal practically touches off St. Elmo's fire. The next stoplight comes up fast. Absurdly fast, in an unnervingly quiet rush. Golf cart meets F-16.
I am folded into a Tesla Roadster 2.5 Sport, the $100,000-plus, all-electric exotic that looks a lot like a Lotus Elise and, from a performance standpoint, leaves most hybrid cars in its electron cloud.
Tesla is a boutique automaker, and that's where the Roadster's chassis and some other parts are sourced, though it's more than 90 percent original, including its lovely, lightweight, partly carbon-fiber body, this one in Batmobile black.
It has been raining on and off in Boston. Wet leaves blow around in the chill. Even mid-day there are too many other cars on the river roads along the Charles to properly wring this thing out. Here a Suffolk County sheriff. There a Statie.
But the Roadster can't cloak its personality. It's all urges and surges. Loaded with torque, It does zero to 60 in 3.7 seconds – comparable to (maybe even a coat-of-paint faster) than Ferrari's frighteningly quick F430. (In fairness, that Italian job also has a top-end speed of about 200 m.p.h.; Tesla's is 125.)
Electric vehicles are hardly new – the newsprint Monitor was delivered locally by electric trucks before World War I – but they've entered a new era. Tesla is, so far, the one true electric supercar. It pretty neatly redefines "plug and play."
You've probably heard of this exotic. It's the one George Clooney and Leonardo DiCaprio waited online to get.
---