Between rich and poor, a marriage gap
(Read article summary)
Richer, better educated people are more likely to marry than poor, less-educated ones, a Pew study finds.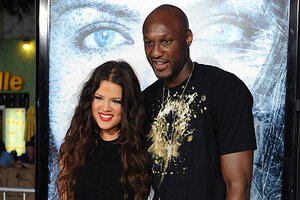 Jim Ruymen/UPI/Newscom/File
The gap between rich and poor isn't just about money. A new study finds that Americans with low income and education are less likely to marry than those who are better off.
The trend, which occurs over a background of declining marriage rates, suggest that while Americans of low socioeconomic status are just as likely as well-off Americans to want to get married, they place a high premium on financial stability before marriage, a bar they may never meet.
An ambivalent public
The study, conducted by Pew Research Center in conjunction with TIME, used analysis of economic and demographic data from the U.S. Census Bureau combined with an October 2010 telephone survey of a nationally representative sample of 2,691 adults. The margin of error is plus or minus 2.6 percentage points.
Overall, the data revealed a deep ambivalence toward marriage, Pew reported. Nearly 40 percent of Americans say marriage is becoming obsolete, an 11-percent increase since 1978. The number of married couples has dropped, too: In 1960, 72 percent of American adults were married. In 2008, that number was 52 percent.
Nonetheless, 69 percent of people say that single women having children is bad for society, and 61 percent say kids need both a mom and a dad to grow up happily. When asked if trends toward cohabitation, unmarried couples raising children and gay couples raising children are bad for society, 43 percent answered "yes" to each question.
Money and marriage
---