Black Friday? Nordstrom Rack goes one better.
(Read article summary)
Black Friday draws attention, but Nordstrom Rack is offering a deal with a different twist: a $50 coupon for $25, which is good through Dec. 31.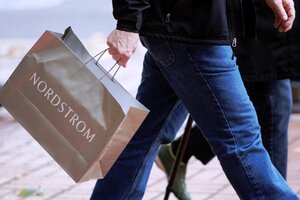 Rick Bowmer/AP/File
What can a company do to take the sting out of disappointing sales results? It can change the subject.
That may explain why Nordstrom on Friday offered an attention-getting deal for its Nordstrom Rack clearance stores: a $50 coupon for $25 at the Groupon coupon site.
Groupon is a website that tries to offer one great coupon deal a day in cities around the country. Friday's deal is pretty aggressive: effectively a 50 percent discount on items that are typically already marked down by a third to a half.
Stores do offer up to 75 percent off in sales periods like January or June. But five weeks before Christmas? During the biggest selling season of the year?
With compelling math like that, who needs a Black Friday sale? The coupon can be used anytime between now and Dec. 31.
The coupon will be available on Groupon through the weekend, according to Groupon spokeswoman Julie Anne Mossler. If it doesn't show up in your city, try another. (For example: Miami and San Diego had it, but Boston was offering a different Groupon deal.) Limit one per customer.
---