Wal-Mart: Is Amazon replacing it as low-price leader?
(Read article summary)
Wal-Mart, the longtime price leader, can't undercut online retailer Amazon this holiday season, an analyst says.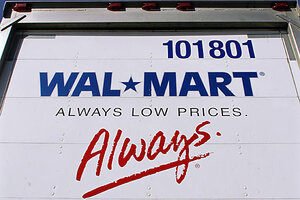 Seth Perlman/AP/File
For decades, Wal-Mart Stores set the standard for retailers: They were the most efficient at getting low-priced goods into the hands of consumers that nobody could beat them on price.
Now, that price leadership seems to be moving to Amazon.com. As it did last year on Black Friday, Amazon set a price bar for hundreds of items that no one else could touch.
"Amazon is actually in a better position than Wal-Mart to be the price leader," says Kirthi Kalyanam, director of the Retail Management Institute at Santa Clara University in California, who has studied the two companies. "Amazon has a lower cost structure than Wal-Mart."
In one sense, that's comparing apples and oranges. Wal-Mart deals in bricks-and-mortar stores; Amazon is strictly online. Wal-Mart's clientele is also different – less well-off and older – than the online crowd that Amazon caters to. Online purchases represent only a small share of overall retail sales.
Still, these distinctions are likely to fade as more and more Americans turn to online shopping. That move online is in full view this holiday season.
While sales at major stores for Black Friday and the weekend were flat from last year, reports ShopperTrak, a Chicago-based research firm, online sales have posted double-digit growth from a year ago – both for Black Friday and the following Cyber Monday, according to Coremetrics, an IBM-owned Web analytics company based in San Mateo, Calif.
---