WikiLeaks cyberattacks now involve Visa, Facebook, Twitter, MasterCard
(Read article summary)
Visa website taken down, MasterCard website barely up, Operation Payback's Facebook and Twitter pages down. Who will be the next casualty in the WikiLeaks cyberwars?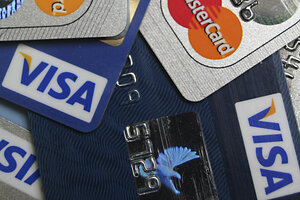 Photo illustration / Jochen Krause / AP / File
The cyberattacks against corporations that move against WikiLeaks founder Julian Assange appear to be escalating.
After bringing down his Swiss bank's website last week, and MasterCard's site Wednesday, a loose coalition of hackers calling themselves Operation Payback brought down Visa's website Wednesday afternoon.
Companies are fighting back. In the latest salvo, Facebook and Twitter both pulled Operation Payback's websites Wednesday afternoon, cutting key lines of communication with the "troops" in this cyber-battle.
What damage remains is hard to assess, as MasterCard and Visa continue to try to re-establish full functioning of their websites. If nothing else, Operation Payback has drawn attention to the vulnerability of many companies to this sort of cyberattack. As President Obama said in May 2009, "This cyber threat is one of the most serious economic and national security challenges we face as a nation.... This status quo is no longer acceptable – not when there's so much at stake. We can and we must do better."
For the attackers, the real benefit may be attracting attention to their cause.
Where did these so-called cyberwars begin?
---