Reverse mortgages are expensive. Try a family loan instead.
(Read article summary)
Reverse mortgages are too complicated and costly, says a recent report from consumer advocates. One alternative: a private reverse mortgage.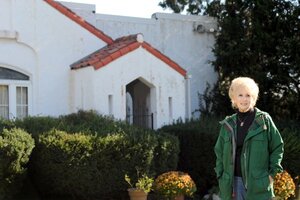 Steve Ruark/AP/File
With many seniors' finances squeezed by the stock market's plunge over the last three years, reverse mortgages look like an alluring idea.
You stay in your home while selling it off a little at a time, using the payments to fund your retirement. Since home equity makes up roughly one-sixth of the average retiree's wealth, it's no wonder interest is running high. Without tapping their home equity, 3 in 5 seniors are at risk of running out of money, according to a March report (.pdf) from the Center for Retirement Research at Boston College in Massachusetts.
But are banks' reverse mortgages the best way to go? Some consumer groups don't think so.
"They should be considered only as a last resort," says a report released last week by Consumers Union (publisher of Consumer Reports), California Advocates for Nursing Home Reform, and the Council on Aging Silicon Valley. The groups list alternatives that seniors should consider first, including applying for Supplemental Security Income, Medicaid, energy and telephone discount programs, city and county grants, state tax-postponement programs, and Veterans pensions. (You can see a full list of alternatives here.)
---
Follow Stories Like This
Get the Monitor stories you care about delivered to your inbox.