Gold ATM: Why settle for cash? Withdraw gold.
(Read article summary)
Gold ATM, installed in a Florida mall Friday, lets customers buy by the gram or ounce.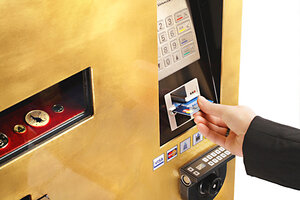 Splash News / Newscom / File
Looking for something sparkly to put under the Christmas tree, but annoyed by jewelry ads? Here's a new option: Skip the diamond stores and buy 24-carat solid gold – from a gold-plated vending machine.
The United States is scheduled to get its first gold-dispensing machine on Friday. Though it calls itself the "Gold ATM," the machine is not connected to your bank account, so it's really more of a vending machine that takes cash – lots of cash – or credit or debit cards.
The machines update the price of gold every 10 minutes, to stay current with market values. They stock about 320 pieces of newly minted Credit Suisse .9999+ pure gold, in variously sized bars and coins. As of Friday morning, a one-gram flake, about the size of a fingernail, cost $45, plus packaging, certification, and a 5 percent markup. An ounce, slightly larger than a quarter, cost about $1,370.
A similar machine in Abu Dhabi has proven so popular that it gets restocked every other day.
The Gold To Go machine was invented by Thomas Geissler, a German entrepreneur. After his success in Germany and Abu Dhabi, he installed these machines in Spain, Italy, and now America. The US should get 40 more in the next year, says Mr. Geissler, but for now, the only "Gold ATM" in North America is in at the upscale Town Center Mall in Boca Raton, Fla.
---