Pet food recall: Is your pet's food on the list?
(Read article summary)
Pet food recall: Kroger is recalling three brands of cat food and dog food due to possible contamination by aflatoxin.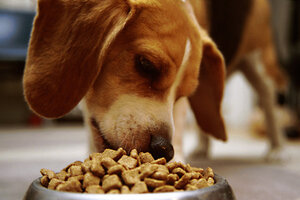 Photo illustration / Omni Photo Communications Inc. / Newscom / File
The Kroger Co. announced Saturday that it was recalling three brands of pet food. Tests showed that select packages may have come into contact with aflatoxin, which can pose a health risk to pets.
The company advises customers: if you bought a contaminated bag of pet food, stop using it immediately and return it to where you purchased it for refund or exchange.
The affected packages of Pet Pride, Old Yeller, and Kroger Value brand pet foods were all produced at a Kroger-owned factory in Springfield, Tenn., according to Denise Osterhues, spokeswoman for the Cincinnati-based grocery store.
The recall affects customers at Kroger's, Dillons, Gerbes, Baker's, Food 4 Less, Jay C, Hilander, Owen's, Pay Less and Scott's stores in 19 states across the Midwest and South: Alabama, Arkansas, Georgia, Illinois, Indiana, Kansas, Kentucky, Louisiana, Michigan, Mississippi, Missouri, Nebraska, North Carolina, Ohio, South Carolina, Tennessee, Texas, Virginia and West Virginia.
---