When snow stalls states, MTA transit, who's hit the worst?
(Read article summary)
The weekend snowstorm, which forced six states into emergency mode and partially paralyzed New York's MTA system, hit hourly workers especially hard.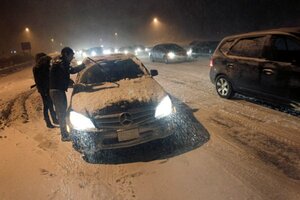 Seth Wenig/AP
Snowstorms suppress retail sales, reduce producitivty, and cut into tax revenues. But the biggest losers of the weekend snowstorm that closed down much of the East Coast Monday?
Hourly workers.
Warned off slippery roadways, stranded on commuter trains and subways, such as New York's Metropolitan Transportation Authority (MTA) subway, the people who serve the food, sell the goods, and clean the offices lost precious wages Monday.
Even with overtime later on, many of them won't make up what they lost, according to a study of snow costs for 16 states released in March by the American Highway Users Alliance.
"Snow-related shutdowns harm hourly workers the worst, accounting for almost two thirds of direct economic losses," concluded the study (.pdf), which was carried out by IHS Global Insight, an economic research firm based in Lexington, Mass. Adding in lost sales for businesses, taxes for government, and other costs, the economic impact of even a one-day shutdown along the East Coast can range from $183.5 million in Maryland to $700 million in New York.
This weekend's storm was especially hard on the band of states from North Carolina on up to Maine. Besides Maryland, the Associated Press reported, five other states declared states of emergency Monday – North Carolina (not included in the study), Virginia ($260 million), New Jersey ($289 million), Massachusetts ($265 million), and Maine (not included in the study).
---