Starbucks logo change: No name. More mermaid. Will it sell more coffee?
(Read article summary)
Starbucks logo undergoes a redesign that drops its name. Is the coffee giant's mermaid (actually, a siren) strong enough to stand on her own?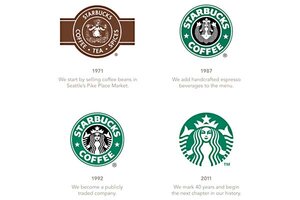 Courtesy of Starbucks
When you see a mermaid, do you think of coffee? Starbucks hopes so.
The Seattle-based coffee corporation announced Wednesday that they were changing their logo, stripping off all text – both the name "Starbucks" and "coffee," their signature product – and enlarging their stylized mermaid. Oh, excuse me, not mermaid, siren, as the company consistently calls it.
"Throughout the last four decades, the Siren has been there through it all. And now, we've given her a small but meaningful update," wrote Chairman and CEO Howard Schultz on the company's website. In the accompanying video, Mr. Schultz says, "It embraces and respects our heritage, and at the same time evolves us to a point where we feel it's more suitable for the future."
But does it actually evoke Starbucks?
"Is it a strong enough icon?" asks Laura Oswald, director of Marketing Semiotics, a marketing research company in Chicago. "Would you identify that mermaid as absolutely Starbucks the way you identify the golden arches as absolutely McDonald's?"
---