Taco Bell meat? Beef, says firm. Filling, says suit.
(Read article summary)
Taco Bell meat has too little beef to be called beef, a lawsuit charges. 'Absolutely wrong,' the fast-food chain says of the suit.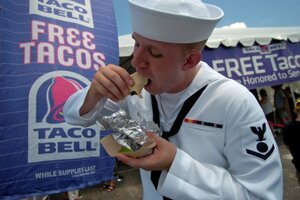 Gary C. Knapp/AP Images for Taco Bell/File
When is beef not beef?
When it's served in a Taco Bell taco, alleges a California woman in a class-action lawsuit. The suit, filed Friday, claims that the fast-food giant uses so much other ingredients in its meat that it no longer qualifies as beef.
Taco Bell, based in Irvine, Calif., fired back in a statement Tuesday, saying that the suit is "absolutely wrong" and that it planned legal action of its own.
The dispute revolves around how much can be mixed in with beef and still be called beef.
In its raw or frozen form, ground beef "shall not contain more than 30 percent fat, and shall not contain added water, phosphates, binders, or extenders," according to the US Department of Agriculture (USDA). It can include seasonings or not.
To hear Taco Bell tell it, that's exactly what it does:
"We start with 100 percent USDA-inspected beef," the company says in its statement. "Then we simmer it in our proprietary blend of seasonings and spices to give our seasoned beef its signature Taco Bell taste and texture."
That "texture" is where the legal wrangling begins over Taco Bell meat.
"In reality, a substantial majority of the filling is comprised of substances other than beef," the lawsuit alleges. And those seasonings?
---