iPad owners chuck original to get iPad 2
(Read article summary)
The original iPad has flooded the resale market and depressed prices after Apple's announcement of the iPad 2.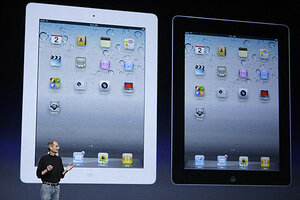 Jeff Chiu / AP
It almost floats.
That's what Apple CEO Steve Jobs said of the thinner, lighter iPad 2 that he unveiled on Wednesday. As it turns out, the original iPads actually do float, and since the announcement of the new iPad, they've been surfacing by the thousands for resale online.
Owners of the first iPad are chucking them to get their hands on an iPad 2.
It's not because they're frustrated with the old one, it's because they love it and want the "latest greatest speed," said Bill Brock, an iPad owner and application developer based in Chattanooga, Tenn.
Mr. Brock plans to order an iPad 2 soon and give his old one to his wife. He was sold on the speed of the new model, for Internet browsing, and its lighter weight, for reading books. "Maybe it's a little addictive in nature," admitted Brock, who has done the same thing with his iPhones.
"We've never seen anything like this before," said Michael Schneider, a spokesperson for Gazelle, an electronics buy-back company based in Boston. Since the announcement of the iPad 2 Wednesday, it has bought more than 3,500 of the original models. The surge in sales has also dropped prices.
SOUND OFF: Is the iPad2 worth having or will you spend the money some other way?
---