Do tax rates affect where people live? Ask a soccer star.
(Read article summary)
Some of the world's most mobile workers choose to live and compete in European nations with the lowest tax rates.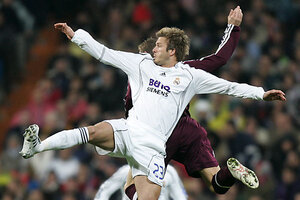 Matthias Schrader/picture-alliance/dpa/Newscom/File
They compete a continent away, playing a game that has never caught on with the American public. But on one subject, Europe's soccer stars have an important message for Americans:
Tax rates.
It turns out that highly paid soccer players are sensitive to taxes. They tend to move to those nations that give them a break. Why is Spain's top league a sudden soccer powerhouse? One reason is tax policy. Why are Denmark and Belgium's leagues stronger than in other similar countries? Ditto.
In perhaps the first study to provide compelling evidence of a link between tax rates and worker migration, three economists look at this highly paid, highly mobile workforce and make several surprising conclusions:
1) Top marginal tax rates matter to big earners.
2) If you're going to cut taxes to lure such highly skilled workers, make it a big tax cut. Otherwise, it won't have much effect.
3) Even though their top tax rates are relatively high, European nations would not get more revenue by cutting them overall. But in a few of those nations, dropping the rate specifically for high-skilled foreign workers could swell the tax coffers.
Admittedly, this isn't the usual tax-cutting message of American conservatives.
"The country would be crazy to lower its top tax rate [for everyone] in the hope of attracting top foreigners to increase their tax revenue," says Emmanuel Saez of the University of California at Berkeley, who along with economists Henrik Kleven of the London School of Economics and Camille Landais of Stanford University wrote the study. But four of the 14 nations they studied could cut rates just for high-skilled foreign workers and come out ahead.
---