Pessimistic about the US? Warren Buffett isn't.
(Read article summary)
Warren Buffett sees investment possibilities and untapped potential in US. But Buffett is concerned about Europe's debt crisis.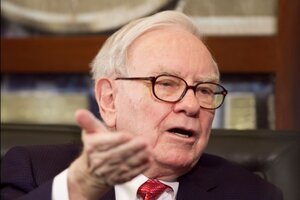 Nati Harnik/AP
Warren Buffett, one of he world's most successful investors, is unabashedly upbeat about the prospects of the United States.
Never mind that the recovery is slow. Never mind that at his annual shareholders' meeting on Saturday he faced serious questioning over the resignation of his once heir-apparent.
The stock market? Mr. Buffett, CEO of Berkshire Hathaway, says he's still in the hunt to buy companies – perhaps two new ones that, combined, would equal roughly the size of the $9 billion deal he has to acquire chemicalmaker Lubrizol.
The battered housing market? It will come back, perhaps by the end of the year.
The shrinking US dollar? Yes, it will lose value, but not rapidly enough to bet a lot of money on it.
"Warren Buffett is just plain optimistic about the United States," says Liz Claman, a FOX Business Network anchor who interviewed him twice in the past week. "Most of his acquisitions in the near future will be here in the United States…. He said [in an interview Monday]: 'The luckiest person in the world is a healthy baby being born in the United States today. He or she will live so much better in so many ways 20, 30, 50 years from now than we live now.' "
---