Peace Corps for retirees? It's a second chance to serve.
(Read article summary)
Peace Corps and other national service programs could take advantage of skills and know-how of retiring boomers. The Peace Corps would work even better.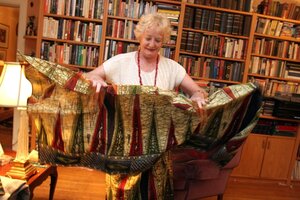 Nicole Hill / The Christian Science Monitor / File
National service programs – most notably the Peace Corps, the most memorable innovation introduced in President Kennedy's "Ask not" speech – were designed primarily for young people. Now those '60s-era youth – the very people the Peace Corps was created to engage – are looking for another round of service with the same motivations that attracted them four decades ago: to give back, to have an adventure, to acquire experience, and to gain the credentials and credibility to launch a new chapter of life and work.
Why not give them a second chance to serve – a kind of "encore" service for those who are past middle age but far too active to be considered old? Service opportunities for those over 50 could create a win-win of staggering proportions.
Take the case of Gary Maxworthy. Forty years ago, Mr. Maxworthy was an idealistic young man who wanted to heed JFK's call to service, but he had a family to support. Instead of joining the Peace Corps, he launched a career in the food-distribution business, where he worked for more than 30 years.
As Maxworthy approached 60, his wife's passing sent Maxworthy into a period of soul-searching. As he stepped back and asked questions about what matters most and what's next, he thought a lot about his old Peace Corps dream and the prospect of returning to it. In the end, he chose a more manageable domestic option, VISTA, part of the AmeriCorps national service program.
VISTA placed Maxworthy at the San Francisco Food Bank, where he discovered that the food bank – like food banks throughout the state of California – was primarily giving out canned and processed food. It was all they could reliably deliver without food spoiling.
Maxworthy knew that growers in California were discarding tons of fruits and vegetables that were blemished and not up to supermarket or restaurant standards. Bringing his experience to bear, Maxworthy launched Farm to Family, a program that in 2010 distributed more than 100 million pounds of fresh food to needy families in California.
---