In China, land of cheap labor, a push for robots
(Read article summary)
Foxconn, maker of iPhones and iPads, plans to add 1 million robots, doubling the world's industrial robot population. More Asian manufacturers will follow.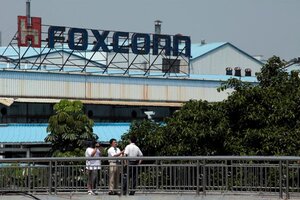 Tyrone Siu/Reuters/File
Foxconn, a Taiwanese contract manufacturer famous for making Apple iPads and iPhones, has the manufacturing world abuzz with its plans to deploy 1 million robots in its factories over the next three years.
It's a big step for robotics, because the move would more than double the world population of industrial robots. Equally important, it's happening in electronics, not in the automotive industry, which has been the stronghold for robots, and in China. Foxconn, a company that made its mark by using cheap labor from mainland China, is leading the charge of what I believe will be a huge move toward automation in Asia.
Foxconn may have its own reasons for making the first move. A rash of suicides among its workers in China last year brought intense international scrutiny. The adverse publicity, along with a push from Apple's supplier social responsibility group, caused the company to raise wages and improve its workers' living conditions.
But increasing wages and benefits has reduced profits. The second-quarter earnings of its parent company, Hon Hai Precision Industry, Ltd., were down 36 percent from what they were a year earlier and its stock has lost more than 40 percent of its value so far this year. Yet Foxconn is making far more Apple iPhones, iPads, and iPods than a year ago. One way to cut costs: robots.
It is not clear what kinds of robots Foxconn might deploy: simple soldering and welding machines, mounting machines, perhaps two-armed advanced robotic assistants or a mix of many types. If the goal is to reduce dull, dirty, and dangerous tasks, as Foxconn Chairman Terry Gou said recently, many of the company's mindless and hazardous tasks are well-suited for industrial robots.
---