America's new superheroes: a budget committee?
(Read article summary)
Congress didn't get the debt-limit deal right. But its new 'super committee' has a crack at crafting the right package this fall.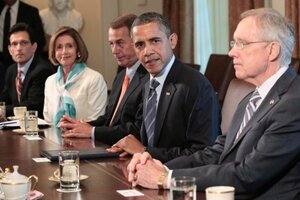 Pablo Martinez Monsivais/AP/File
The stock market's wild roller-coaster ride and Standard & Poor's downgrade of America's credit rating are just the latest symptoms of the large problems confronting the United States.
We shouldn't be surprised. The economy continues to face severe dual challenges: (1) a very slow recovery from an unusually bad recession, and (2) an unsustainable longer-term government budget outlook. If our policymakers had their act together and were making successful efforts to combat either one of these, progress with the other would follow. As it is, the lack of substantial policy progress that came out of the debt-limit talks means months – perhaps even years – of the threat of a continued downward spiral.
To be fair, it's not clear that policymakers could have done much better before the August debt ceiling deadline. It seems to take real crises to bring Americans together on difficult choices. The subsequent turmoil in the stock market may be just what we need to get us to focus on real compromise in time for Round 2 of the debt-limit deal.
By Thanksgiving, the bipartisan "super committee" of sitting politicians appointed by congressional leaders will have the opportunity to become "superheroes" for America. All they have to do is come up with a package of fiscal policies that will pass Congress and reduce the deficit by another $1.5 trillion over 10 years.
Democrats are still reeling from Round 1 of the deal, which included no increase in tax revenues and relied instead on almost $1 trillion in cuts over 10 years from annually appropriated "discretionary" spending. To their chagrin, it also imposes more spending cuts and no revenue increases if a majority of the super committee fails to come up with a passable plan. But the committee has no such constraints as it takes up Round 2.
---