Suit to stop AT&T, T-Mobile merger: a boon for consumers?
(Read article summary)
The Justice Department's suit to block the merger could boost mobile-phone competition. If successful, the suit could preserve low-price plans that T-Mobile has been pushing.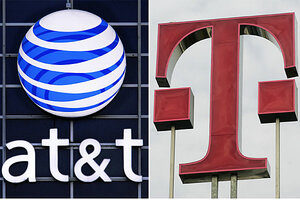 AP/File
If the Department of Justice succeeds in deep-sixing the proposed merger between AT&T and T-Mobile USA, consumers could come out ahead.
That's partly because, as consumer groups have argued all along, the more competitors there are in the marketplace, the less mobile-phone service is likely to cost. If one of those competitors is feisty T-Mobile, which consistently has offered lower-cost and more innovative plans than its competitors, the marketplace will be especially well served.
There are at least two other reasons a broken merger could help:
First, T-Mobile's merger agreement with AT&T stipulates that AT&T pay it a $3 billion breakup fee in case the merger doesn't go through, says Parul Desai, policy counsel for Consumers Union, a consumer information group in Yonkers, N.Y., and publisher of Consumer Reports. That money could help the small mobile carrier enhance its services even more.
Second, not merging with giant AT&T could pave the way for a merger with smaller Sprint, creating a joint entity that could provide more competition for AT&T and Verizon.
The Justice Department's suit Wednesday to block the merger is a win for consumers, Ms. Desai says. "In this case, consumers can put a W next to their name."
---