Job market dismal? Here are the bright spots.
(Read article summary)
Although it added no net new jobs in August, the economy has some sectors that are growing robustly. Technology, health care, and some regional job markets are doing well.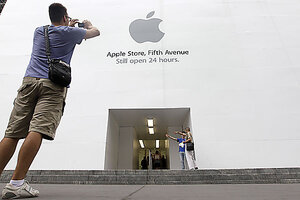 Mary Altaffer/AP
America added no net new jobs in August.
Zero. Nada.
That's the first time since World War II that the Labor Department has reported neither a net gain or net loss. And it's the clearest sign yet that the economy is stalling, perhaps even falling into recession. But the economy is not one homogenous mass. It's an intricate mechanism, made up of hundreds of industrial sectors and regions, some of which are declining while others are rising, even booming.
"It's like George [H.W.] Bush: 'I see a thousand points of light," says Tom Flannery, managing director of the Pittsburgh office of Boyden, a global executive search firm based in Hawthorne, N.Y. "But typically, they're in specific geographic or sector locations."
So where are the bright spots in today's gloomy job market?
Professional and business services are one positive factor. The number of jobs has risen every month since July 2010, and the sector has retraced nearly half of its losses since peak employment in December 2007, when the recession began.
Sectors within that category are rising even faster. Management and technical consulting services reached a record high in August, having added 58,000 jobs – a 6 percent increase – since the recession began.
---