Europe's debt woes threaten eurozone – and the US
(Read article summary)
Europe's debt woes will lead to further declines in the euro and European stocks. The risk to the US? Its banks.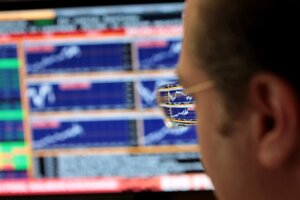 Armando Franca/AP
If the United States dips back into recession, the eurozone will have helped push it over the edge. Indeed, investors' concerns about the eurozone's myriad financial and economic woes have been a big factor in the global stock market plunge this summer.
The plunge is due partly to the uncertainty caused by European leaders, who seem determined to preserve an untenable status quo. These structural problems could make the eurozone's economic predicament even more challenging than America's.
The latest Greek bailout – €109 billion ($156 billion) in July on top of last year's €110 billion – will accomplish very little in the long run. Markets suggest that the European debt crisis isn't over.
The euro's climb against the dollar ended in May, then began a saw-toothed pattern along a declining trend. European stocks display the same pattern. As the crisis persists, I foresee more drops in the euro and European stocks.
Economic growth in the eurozone is also weak, rising just 0.2 percent in the second quarter. Gross domestic product in powerhouse Germany grew an anemic 0.1 percent while France's GDP growth was flat. With a global slowdown under way, demand for European exports – the source of European growth overall – is likely to wane, too.
---