America could use another Steve Jobs
(Read article summary)
Steve Jobs will be rightfully remembered for remaking four industries in the last decade. But an earlier incarnation of Steve Jobs helped restore America's confidence in a troubling time.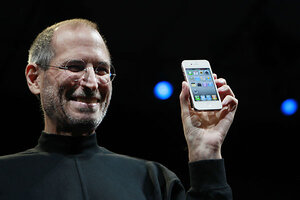 Paul Sakuma/AP/File
When Fortune magazine picked Steve Jobs as "CEO of the decade" in 2009, it pointed to his outsize impact on four industries: music, movies, mobile telephones, and, of course, computers. "Remaking any one business is a career-defining achievement; four is unheard-of," it raved.
After Mr. Jobs' passing on Oct. 5, many will be raving about how he revived Apple by rolling out "insanely great" consumer products like the iPod, the iPhone, and the iPad, and created iTunes, the biggest music store in the world.
But there is an older incarnation of Jobs that was equally important for Americans, if not as consumers, then as citizens. It was the very beginning of the 1980s, after the United States had suffered an unprecedented decade of self-doubt and crisis: Watergate, the loss of the Vietnam war, the Iran hostage crisis, two oil embargoes, stagflation, Detroit's plunge in the face of Japanese auto imports, and (what came to be known as) malaise.
---