If jobs report is positive, why is Wall Street so gloomy?
(Read article summary)
US created 103,000 jobs, better than expected. But Wall Street's outlook is gloomier than Main Street's. Here's why.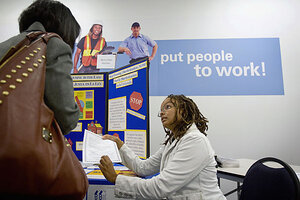 David Goldman/AP
Every day, millions of Americans get up, go to work, and move their companies forward. The economy doesn't look great from Main Street, but it's not falling off a cliff, either.
Then there's Wall Street, with its wild gyrations and euro-jitters. And from economists and analysts, too, comes an increasingly negative picture of what's happening in economic activity.
What's going on? There's a disconnect, which at its heart is about reality and expectations.
On Friday, the Department of Labor offered a fresh dose of reality, which was largely positive: The economy added 103,000 jobs last month, far better than the 60,000 jobs that economists expected, on average. The growth in jobs was enough to keep the unemployment rate steady at 9.1 percent.
Not only that, the Labor Department revised upward its estimates of employment growth that occurred in the previous two months: July saw 127,000 net new jobs added (revised from 85,000); August saw 57,000 (revised from zero).
"There is no hint in September's Employment Report that another recession is starting," noted Capital Economics, a Toronto-based research firm, in a written analysis.
Many sectors of the private-sector economy are expanding. Professional and business services added 48,000 jobs in September. Health care added 44,000. Technology companies continued to expand. And even construction began to show some growth after seven months of stagnation.
"In general, what we hear from our customers is that their businesses are doing OK," says Scot Melland, CEO of Dice Holdings, which runs specialized career websites in the technology, financial services, and healthcare industries. "But there is a concern about the financial crisis in Europe and, as a result, the future."
---