Behind Qaddafi's death: demographics?
(Read article summary)
Like many newly emerging democracies, Libya didn't overthrow Qaddafi when it was bulging with youth. It toppled Qaddafi after its youth bulge matured.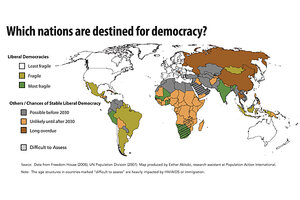 The pictures emanating from Libya – young men cheering the death of Muammar Qaddafi and shooting their guns in the air – are gripping. They're also a little misleading.
Libya has not taken a dramatic step away from dictatorship because of a surge of young people agitating for change, but precisely because there are relatively fewer of them.
That, anyway, is the argument of some demographers, who assert that population shifts are a major force behind the so-called "Arab spring" that has brought change to Tunisia, Egypt, and now Libya.
When demographer Richard Cincotta undertook three years ago to determine which nations had the best chance of becoming liberal democracies before 2030, he colored in all of North Africa, some of the Middle East, and on into central Asian countries such as Kazakhstan, Afghanistan, and Pakistan (see map above).
IN PICTURES: Qaddafi's last stand
The reason: Fertility is falling, which is allowing these nations' youth bulges to mature. That may seem counterintuitive, but too many young people pushing for change causes other elements of society to lean toward stability. In 2008, Mr. Cincotta wrote:
---