Iraq war will cost more than World War II
(Read article summary)
Iraq war, now winding down with US troop exit by December, has cost more than $800 billion so far. But ongoing medical treatment, replacement vehicles, etc., will push costs to $4 trillion or more.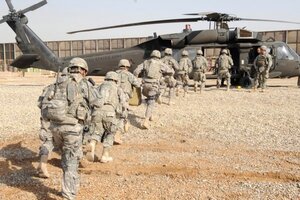 Staff Sgt. James Selesnick/U.S. Army/Reuters/File
Anyone curious about the cost of America's wars in Iraq and Afghanistan can look it up on costofwar.com, up to the latest fraction of a second. Last weekend, the Iraq war had cost more than $800 billion since 2001; the Afghan war, $467 billion plus.
For the 8-1/2-year conflict in Iraq alone, that works out to nearly $3,000 a second.
So President Obama's announcement that all US troops will be out of Iraq by year end should mean some drop in ongoing military spending. But the budget relief probably won't be as much as you might expect.
Tragically, beside the financial cost, there is the human toll. The war in Iraq has resulted in some 4,480 US troops killed and more than 32,000 wounded. (The Iraqis have suffered far more fatalities, about 654,965, according to the British medical journal The Lancet.) Thus, ongoing medical and disability claims and treatment of US veterans will boost the costs of the Iraq war even more.
Throw in the replacement of vehicles, weapons, equipment, etc., and the eventual tab for the United States could reach $4 trillion to $6 trillion, according to University of Columbia economist Joseph Stiglitz and Harvard University budget expert Linda Bilmes. Those are big numbers.
---