Want a more ethical workplace? Make it childlike.
(Read article summary)
The presence of children – and childlike things – improves adult behavior. Here are three ways companies can incorporate the power of children to make their workplaces more ethical.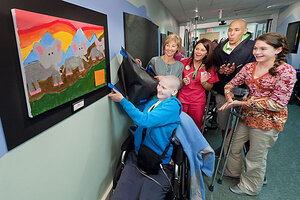 Seth Dixon/St. Jude Children's Research Hospital/PRNewsFoto/File
People behave better in front of children. They are less likely to swear and more likely to buy Girl Scout cookies and candles and gift cards for school drives.
Media companies figured out this child power long ago: Look at the raft of commercials that use baby images to advertise everything from bottled water to computer hardware. And what politician doesn't engage in baby kissing to boost his election prospects?
Why do adults change their behavior? Because society has conditioned us to associate children with innocence.
SEE ALSO: Five top dog-friendly employers
Bizarre as it may sound, companies can harness this power to make their workplaces more ethical. My research collaborator, Francesca Gino, and I have performed experiments that suggest that the presence of children – even the presence of cute childlike things such as animation videos and stuffed toys – brings out good behavior in people.
In one experiment, people who watched an animated nursery rhyme were less prone to cheat on math puzzles than those in the control group. In another experiment, people who participated in a "product evaluation study" of a soft toy were less likely to deceive opponents in a deception game than those who evaluated a stylish paper clip.
Here are three ways corporations can harness child power to make themselves more ethical:
1. On-site day-care centers. Our research offers a novel reason for organizations to provide on-site day-care facilities. Not only will on-site day care lead to a better work/life balance for the employees, it will likely lead to a better ethical climate for the organization as well. Our research suggests that it may also lead companies to engage in more charitable giving.
---