The economics of gratitude
(Read article summary)
Market transactions only measure a portion of the true economy. Here are ways to extend our resources without additional spending.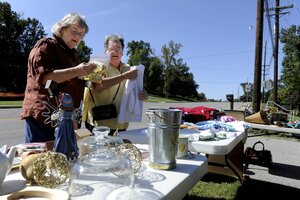 Mike Lawrence/The Gleaner/AP/File
Yes, our economy seems pretty dreadful. Unemployment is still too high. Housing sales are too low. Browsers still outnumber buyers at the mall.
But the weakness in the measurable economy doesn't mean there aren't reasons to be grateful this holiday season. Market transactions measure only a part of our true economic capacity. We can be resourceful beyond what the numbers tell us.
For example: When incomes are lean and unreliable, as they are today, consumers tend to be more grateful for what they already have. Economists call this phenomenon "consumer surplus," which is the value placed on goods and services over and above the market prices paid for them. It's a particularly useful idea around the holidays when so many people lack the money to buy the gifts they want.
Cash income does not necessarily reflect how rich people are. They have far more resources that can be put to good use with a little creativity.
Take your own human capital. These are the talents and skills you possess that have value even if they are not all bought or sold in the traditional sense. When the marketplace won't hire you, those skills can still be put to good use – bartered or donated to produce nonmonetary benefits to both yourself and to others. You might call the benefit "satisfaction" or "thrill" from helping a charity or a loved one.
The same goes for goods. Most Americans have lots of underutilized goods right under their roof. Would they do more good donated to a toy or clothing drive?
Small businesses are rediscovering the benefits of bartering. Cash-strapped consumers can adapt that idea this holiday season. Instead of buying new items for those on your gift list, spend some time rediscovering the neglected treasures you already own. Recycle and renew the wealth you already have.
---