Is American dream fragile? History says it's strong.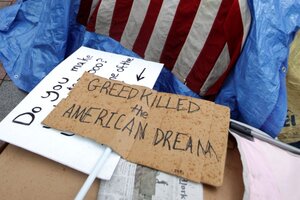 Ted S. Warren/AP/File
The ideological distance between the first tea party rally in Seattle and the "Occupy Wall Street" protest that got its start in New York City is about as wide as political chasms get in America.
The tea partyers and the Occupiers clash on just about everything: the role of government, the cause of the nation's economic woes, and solutions to them. But they agree on this: They fear that the American dream is vanishing.
For tea party activists, the dream seems on the verge of being finished off by higher taxes and bigger government. For the young Occupy Wall Street protesters, the dream seems unlikely to get started.
"You have both the tea party element out there – people who are going to have stuff taken away – and you have youth that have got it right: that they're going to live in their parents' broom closets for the next decade," says Lawrence Rosenthal, executive director of the Center for the Comparative Study of Right-Wing Movements at the University of California, Berkeley.
More than 70 percent of Americans rate their standard of living as fair or poor, just the reverse of what they said before the Great Recession, according to an October American Pulse Survey. Nearly half of young adults think their generation will be worse off than their parents', according to a survey by policy center Demos and a youth advocacy organization called Young Invincibles. Just as in the Great Depression, the last time that the United States endured a major financial crisis, the future looks bleak.
---