Buffett buys a newspaper. Time to invest in news?
(Read article summary)
Warren Buffett's $200 million deal to acquire the Omaha World-Herald is no investor's home run. But it does signal that well-run local newspapers have a profitable future.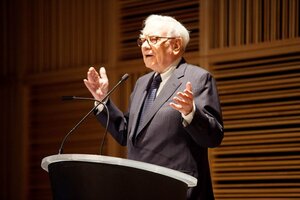 Jeff Bundy/The Omaha World-Herald/AP
The deal was no blockbuster. No splashy audacious buy during a market sell-off. But in a way, Warren Buffett's plan to purchase the Omaha World-Herald for $200 million is a bold move.
Newspapers are nobody's idea of a growth business. Even Mr. Buffett has disparaged the future of printed news. In 2009, he said many newspapers could look forward to "the possibility of nearly unending losses."
So has the "Oracle from Omaha" changed his mind – and does his purchase suggest that investors should take another look at newspapers? Making money was not Buffett's sole goal in buying his hometown paper, analysts say. But his purchase signals that one of the world's most astute investors believes newspapers, at least well-run local ones, can survive and profit.
"I think newspapers ... have a decent future,'' he said in an interview with the World-Herald, after the purchase was announced Wednesday. In terms of profits, "it won't be like the past. But there are still a lot of things newspapers can do better than any other media. They not only can be sustained, but are important.''
Buffett has long experience with newspapers. His father edited the University of Nebraska's student newspaper. He himself was once circulation manager of the Lincoln Journal. His company, Berkshire Hathaway, owns the Buffalo News and is the Washington Post's largest shareholder.
---