Twelve days of Christmas hopes for tough economy, deadlocked Congress
(Read article summary)
With apologies to carolers everywhere, here are 12 days of Christmas hopes for the global economy and the political leaders struggling to keep it on an even keel.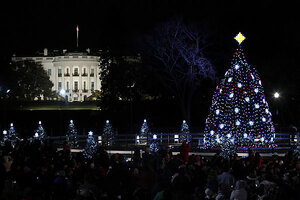 Pablo Martinez Monsivais/AP/File
As the folks in the streets of Oakland and the halls of Congress remind us, we don't lack for challenges this holiday season.
Despite glimmers of improvement, the US economy remains lackluster and Washington seems unable to get anything passed to help, even a payroll tax extension that all sides want. Things are worse in Europe. Japan still struggles to recover from two decades of weak growth and the shock of this year's earthquake, tsunami, and nuclear disaster. Even highflying China and Brazil find their economies slowing.
But it is the season of hope. So rather than gather around the Festivus pole to air grievances, let's visualize a better world. Here are the gifts I would bestow on the world economy for the 12 days of Christmas:
12 AAA nations. At this writing, 12 European nations have a triple-A credit rating from Standard & Poor's, but those top-notch ratings are in jeopardy. Thanks to the European financial crisis, S&P put 15 eurozone nations on credit watch, with a real risk of downgrades. It would be a remarkable gift if a year from now, all 12 AAA nations remain so.
---